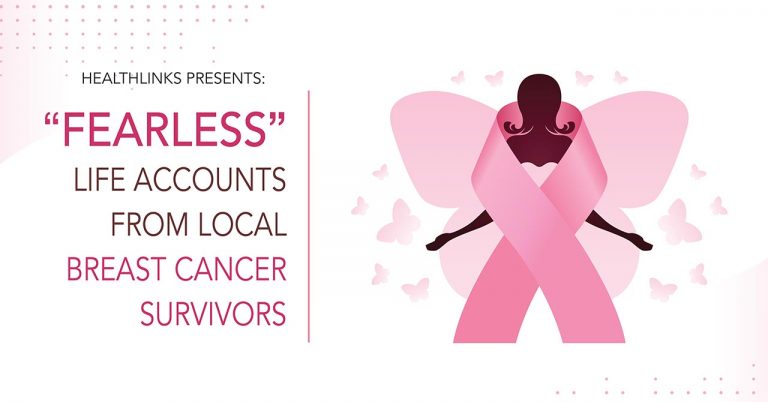 In recognition of Breast Cancer Awareness, HealthLinks is launching a unique web series titled "Fearless" that features four South Carolina women who beat breast cancer and are now thriving in their own ways. Our hope is that the unique fortitude and resilience of these women help inspire others who face breast cancer and similar diagnosis.
---
---
Fearless: Three Stories, One Truth About Breast Cancer
September 1, 2022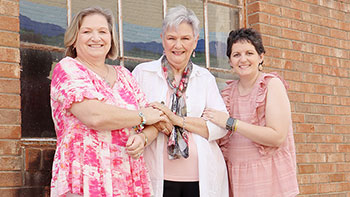 There is no single answer to the multitude of questions that come with news that you have cancer. Each reaction, choice, outcome is as individual as a unique fingerprint.
When Lynne Pryor, 58, learned that she had Stage 1 invasive ductile carcinoma on December 5, 2008, "How am I going to get through this?" Will it ever come back? What would happen to my children?" were the questions that haunted her.
"I was, 31 years old with a newborn baby at home, said Caitlyn Harper, 32, who was diagnosed with Stage 2B invasive ductal carcinoma on July 21, 2021.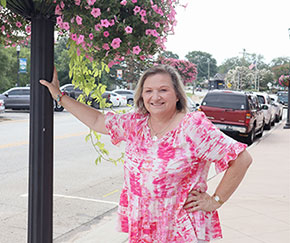 "After the words 'you have cancer,' I wanted to know if I was going to still be around for him – his first birthday, first day of school etc. Would he ever know his mama?" Harper added. "Then of course, the why or the how. The why was the biggest question for me. Why is this happening, why me?"
Cathy McMillan, age 71, also remembers asking, "What is the purpose, God's purpose? Why do I have this?"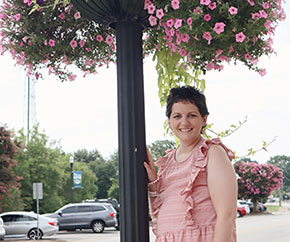 While their questions and each of their paths to remission differs, there is one resounding truth that McMillan, Harper and Pryor share: the flow of love and support that unfolds throughout a cancer journey is overwhelmingly beautiful.
"People brought food, they came to sit with my kid, someone cut our grass from summer through fall," said Harper. "They just showed up; this loving army of people showed up."
"We ate casseroles for years," echoed McMillan, who first learned that she had a Grade 3 tumor (hormone positive, HER2 Nu positive) in 2006. "And the gorgeous flowers…knowing people cared for me – some that I didn't even know cared – was an overwhelming joy."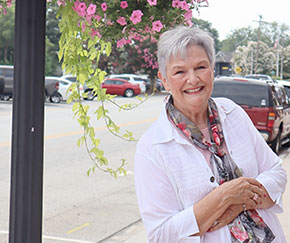 "… meals, flowers, gift cards and many personal "pick me up" notes," Pryor said as she inventoried the generosity and love she experienced. "Each Monday evening for over a month, a friend sent us Papa John's pizza. That was the highlight of my children's day. They would say, 'Oh mom- the delivery man comes tonight!' "
All three women live in upstate and have known each other, or about each other, for years through church and town events, including Relay for Life. As breast cancer survivors, they recently gathered for a group interview.
They hope that by sharing their journeys and advice, they can help other cancer fighters face their own unique questions, choices and outcomes with less fear and more hope.
What advice would you offer women who are fighting cancer now?
Always be persistent and do not wait for doctors to see you in a couple of months. You know your body and you must be your own advocate. Always hold your head high and "fight like a girl!" – Lynne
Have faith in your medical team and ask questions. Try to keep active and do as much physical activity as you feel that you can. I had a treadmill and I walked whenever I could and felt like it.- Cathy
Keep going. As hard as it is, as sick as you may be, as tired as you may be, keep going. Live your life as if you don't have cancer, except on treatment days. My oncologist told me that at my very first appointment and it has stuck with me to this day. – Caitlyn
Best tip for women dreading hair loss.
Own it! Yes, it's an extremely hard transition and I had plenty of meltdowns over it. The best thing I did was just reminded myself that this was just an unfortunate part of the process, and it would grow back. – Caitlyn
Take advantage of the Feel Good/Look Good program that the American Cancer Society has. It made me feel so much better about the hair loss. At work, I was bald and my coworkers were very supportive. When I visited a school, I wore cute hats because I didn't want to scare the little kids! I've always loved to wear hats so it was not a hardship. – Cathy
Visit your local Cancer Association office and introduce yourself, tell them what type of cancer you have and see what they have to offer. You can get wigs, bandanas, scarves and beanies. And believe me, with a bald head you do get cold as you sleep, the beanie came in really handy. – Lynne
What did you learn about yourself?
That it is okay to say I need help and I can't do this by myself. I was very independent and never wanted to ask for help. I learned that I had to ask for help because I didn't have the strength to do it by myself and that is okay. You don't have to be a superwoman all the time. – Cathy
That I am stronger than I ever thought possible. There were many nights I wanted to just give up, but I had to stay strong for my family and myself. – Caitlyn
That sometimes we all experience "bumps in the road" and I feel I was chosen to witness to other ladies that are experiencing some of what I went through. – Lynne
What else was happening in your life (career, personal life) was unfolding at the time you learned that you had cancer?
I was the Coordinator of Middle School Programs and a long list of other responsibilities for District One Schools, Spartanburg County, SC. I was responsible for the district's 5 year Accreditation Review and Process with AdvancED (formerly Southern Association of Colleges and Schools), a new format that I had introduced to the district and so I felt totally responsible for making sure that it was a success. Our visit was scheduled for March 2007. We were in the middle of training and "self-study" when I was diagnosed. The large narrative had to be written and proofed for submission by February 1, 2007. The timing could not have been worse for me personally. – Cathy
I had just given birth to my first son on June 28th 2021. During the time that I found out about my cancer, I was also taking care of a newborn and recovering from a c-section. COVID was still an issue at that time as well. Thankfully, it wasn't as strict as in the beginning, so my husband was able to go to appointments with me. – Caitlyn
At this time of my life, I had 3 children, Phillip, Will and Laura. I was fully involved with my family and husband, Barry, working part time within Spartanburg First Presbyterian Church Weekday School. I thoroughly enjoyed my position in the 2-year-olds classroom, which had to abruptly stop at Christmas break. Facing a full regimen of Chemo beginning the first of February, there was no way I could expose myself to children with just the common cold. Thus began a very emotional journey, but a determined one. I am also a professional watercolorist, but during this time I couldn't concentrate on my painting. I could only focus on what was next with my medical journey. – Lynne
What was your favorite food and/or drink when you had cancer?
We laugh about this. I had cravings for Mexican food and anything "white"–mashed potatoes, rice, grits, pasta. My go-to-food was the chicken noodle soup that is made by our local sandwich shop, "Delightful Dishes" in Inman, SC. Two to three days after a treatment, that was the only thing that I could get down. They don't have chicken noodle soup on the menu but on certain days of the week. The owner personally made a gallon of it for me and put it in containers that could be frozen so I had a personal stock. – Cathy
My favorite food is a fillet mignon and my soda of choice would be a regular coke. During treatment I loved anything cold, especially salads. And I could tolerate more garlic and onions than ever before, mainly because I had very little taste. Overall, I didn't have much appetite during my treatment. – Lynne
Two time buster tips during chemo:
I usually slept or watched TV. Later during Herceptin treatments, I would take my laptop and work. – Cathy
I spent my time reading, browsing thru magazines and sometimes taking a nap. I usually made a list of things I wanted to accomplish that week . I would even write notes or return phone calls that I had missed. I usually had a warm blanket because of the solution they used before the drugs would always chill me. Of course, the nurses always had snacks to pass the time away with also. – Lynne
Reading and watching a movie or TV show were primarily what I did to pass time in the treatment chair. – Caitlyn
What were some specific examples of joys that unfolded for you while you navigated cancer?
The realization that people cared about me and were praying for me. My coworkers and the school staff were amazing. Also, the realization that God was with me and would see me through the experience. – Cathy
A few of the joys I experienced I would say were the people I met and the friends I made during my journey. I am one of five girls, so I am blessed with sisters. But during this experience, I gained many more sisters, they are my survivor sisters. And another joy I had the opportunity to do, was illustrate a book for a friend of mine. Although this was a new route for me as an artist, the timing was perfect and thoroughly enjoyed the process. – Lynne
You could tell God had His hands in everything and that brought me joy. I just knew that this was just a roadblock in my life that I was going to have to fight through. And somehow, someway my story would someday help others through similar journeys. – Caitlin
What were some of the questions that swirled through your mind when you found out you had cancer and as you went through your treatments?
Being told your cancer is aggressive and must be treated aggressively was scary. Until I had all the scans and tests, I was scared to death that the cancer had spread. This was near Thanksgiving and my thoughts ran to…..is this my last Thanksgiving? My last Christmas? Will I never see grandchildren or my sons married? – Cathy
How am I going to get through this and will it every come back were major questions that always stayed with me. The fact that it can always comes back still bothers me, but you must go on with your life. And what would happen to my children? I had a super supportive husband and family, then and now and I am sure if something had happened to me they would have been well cared for. My family exists of a doctor, several nurses, pharmacists and a breast cancer research professional, so I was always able to reach out with many, many questions or concerns. They were always just a phone call away. I was never given the chance to wonder "what if", it was always "when you finish treatment"- Lynne
I think most everybody that gets a diagnosis of cancer thinks the same thing: "am I going to die?" For me, this was no different. Here I was, 31 years old with a newborn baby at home, hearing the words "you have cancer." I wanted to know if I was going to still be around for him. His first birthday, first day of school etc. Would he ever know his mama? Then of course, the why or the how. The why was the biggest for me. Why is this happening, why me? But like I said before, I knew that this was all part of His plan, and we all know that His plan is way bigger and better than we could ever imagine. – Caitlyn
How would you answer those questions today?
God has allowed me to live almost 16 years cancer free. I've seen both sons happily married, achieve some fantastic life goals and become husbands and fathers. I have 3 beautiful grandchildren. My goal now is to live long enough to see them graduate from high school! Of course, one never forgets that breast cancer could come back. That is a reality that you live with but you don't let it control your thoughts and your life. It does make me be more vigilant about getting things checked out and keeping up with regular doctor visits and screenings. – Cathy
I believe today that sometimes we all experience "bumps in the road" and I feel I was chosen to witness to other ladies that are experiencing some of what I went through. – Lynne
I don't think there is an answer for any of those questions, even now with treatments being completed. It's not in our hands, so we don't have those answers. – Caitlyn
Please describe the importance of your medical team.
They were the rock stars. I felt very confident in them the entire time. Our Gibbs Cancer Center in Spartanburg is awesome and was affiliated with M.D. Anderson in Houston so my case and tumor were discussed with them and they consulted in my treatment plan. My oncologist was super and his nurse was the most caring and on top of things. We laugh because being school administrators, we know people everywhere and the staff in the infusion center and the hospital is made up of many of our former students. I was my main chemo nurse's elementary school principal. I felt so rewarded with knowing that students I had taught or impacted were now taking care of me. That is a very rewarding feeling. – Cathy
My medical team at the Gibbs Cancer Center was awesome. Dr. Asim Pati was my oncologist, I believe Cathy and I actually were both his patients… He, along with the nurse practitioners and the infusion nurses guided me through a very difficult time. The nurses were great when I had questions and pushed me to ask the doctor for different directions we could go with my treatment. At one point, we had to cut back on the amount of drugs due to the neuropathy that was beginning in my fingers and toes. I had to learn not to be afraid to ask for guidance. One thing I know for sure is you must be your own advocate when it comes to your healthcare. – Lynne
My medical team was the most fantastic group of people I have ever encountered. Prisma Health Breast Center: Dr Joe Stephenson (Oncologist) and Dr John Rinkliff( Surgeon); St Luke's Infusion Center: Nurse Practitioners Savannah Hightower, Kelly, Lacy and Harriett. From my first appointment at the breast health center, I never felt like just a patient, or just a number. I felt like I mattered, and to me that made a world of difference. My infusion center team welcomed me in with open arms and treated me like I was a family member. To say I was blessed to have these people on my side is an understatement. – Caitlyn
Throughout your cancer journey – from diagnosis, through treatments, to remission- how did you support yourself (what helped you feel more calm and/or hopeful)?
While I was in the hospital waiting on my mastectomy, I had an experience where the Holy Spirit visited me and spoke to me. He said to me, "Cathy, it will be okay." Through the whole experience, my faith kept me calm and confident because I knew that no matter what happened, He had told me it would be okay! – Cathy
Keeping as much normalcy in my life as possible was the biggest way I supported myself. I'm the type of person that makes jokes at inappropriate things (haha), so I was always making jokes about my cancer/bald head etc. I tried to keep a positive outlook and well, have fun. It wasn't going to go away or get better with a bad attitude so I made a choice to not have one. – Caitlyn
My sister is a retired nurse who worked in oncology for 10 years and was also a patient of my oncologist for a blood disorder. She picked me up and took me to breakfast before every treatment and then drove me to Gibbs. She questioned me and kept on top of how I was feeling. Since she knew the medical staff in the oncologist's office, she made sure to ask questions and listen when the nurse or the doctor was explaining things. – Cathy
What were the best forms of support from others?
My family exists of a doctor, several nurses, pharmacists and a breast cancer research professional, so I was always able to reach out with many, many questions or concerns. They were always just a phone call away. I was never given the chance to wonder "what if", it was always "when you finish treatment." – Lynne
My administrative assistant at the time was Renee Bell. While I was home for about 3 months, she kept things running in our office and came to my home to bring work for us to go over. I was still working on this big project and she kept things going and we never missed a beat thanks to her. She would go by Delightful Dishes and pick up the chicken noodle soup for me and she is the one who got the owner to make my own special batch. – Cathy
My husband was my biggest supporter. I could not have gone through this journey without him. He stepped up in so many ways, I couldn't even begin to list them all. My parents were a close 2nd. They would keep my son for me so I could get rest, prepare meals, clean, do laundry etc. I wouldn't even have to ask, they would just do. I no longer work for this company( I left to stay home with my son) but my place of employment at the time(Palmetto Eye and Laser Center of Boiling Springs SC) was a huge support for me. I worked throughout my whole chemo treatment time. They worked so well with me when I needed time off for appointments, left early to go home when I didn't feel well, did fundraisers for me and just loved on us and prayed with us. They were such a blessing to me, and I know that it was no mistake that I worked there during this journey. – Caitlyn
Name: Cathy McMillan
In remission: 16 years in October
Name: Lynne Pryor
In Remission: 14 years in December
Name: Caitlyn Harper
In remission: 9 months in October