Are you sitting down for this? Well, if you are, there's no time like the present to give your seated situation a once-over. After all, poor ergonomics can lead to a host of injuries and recurring pains.
To be ergonomically correct generally means that people and things are interacting in a way that is both efficient and safe, in terms of body mechanics and injury prevention. While most people associate ergonomics with their desk at the office, time spent in the car or doing repetitive movements can be equally taxing on the body. Minor improvements in your posture and movements greatly increase your productivity and reduce your risk for long-term problems.
Jae Anna Beasley, an occupational therapist with Bon Secours St. Francis Hospital in Greenville, recommended sitting in a 90-90-90 position at a desk.
"You want your feet flat on the ground, your knees comfortably over your feet and bent at 90 degrees. Your knees and hips should be in alignment, and your hips at a 90-degree angle to your back," she explained. "Then your back should be straight – with posture and lumbar support as needed for good spine curvature – your face should look forward with your eyes looking forward or slightly down toward your computer screen. Your elbows should be bent at 90 degrees, resting your hands gently over the keyboard with the support of your wrists, shoulders and back."
According to Beasley, the most efficient position for joints are within the mid-range motion. When joints repetitively work outside of that range, they are susceptible to injury.
In addition to sitting and moving your joints safely, taking time to stretch and move can help.
"Do some stretching exercises hourly: arms overhead, behind your back, bending over and trying to touch your toes, spine rotation side-to-side, side-bends, wrist-bends up and down and side-to-side, fist-pumps, take deep breaths and drink water. Rotate jobs if excessive repetition is a risk," she suggested.
Typical injuries associated with poor ergonomics range from carpal tunnel syndrome, forearm tightness and tennis elbow to low back pain, poor breathing habits, numb legs or feet, swollen lower extremities, blood pooling and sometimes even bladder and bowel problems.
In addition to physical injury, work productivity can suffer, and a variety of assessments are available and tailored to various industries. For example, Ralph H. Johnson VA Medical Center's industrial hygienists focus on occupational health and safety and do workplace assessments.
"Ergonomics has a big impact on productivity in the workplace. What we do is reduce lost workdays, restricted duty days, workers' comp claims – employees work better when they are happy and healthy. It improves the quality of work and the quality of life and creates a positive work culture," explained VA industrial hygienist Christina Delp.
Proper ergonomics extends beyond the desk and applies to any repetitive movements.
"For example, heavy lifting," added VA industrial hygienist Tuxberry Suber. "Sometimes employees here have to physically move patients, so they need to be aware of how they lift and move them safely. We teach them how to lift with their knees to prevent musculoskeletal injury and disease."
For those who travel often, proper lumbar support can help prevent injury.
"Feet should remain on the gas pedal, the floorboard or on the foot rests designed for feet if you are in cruise-mode," recommended Beasley.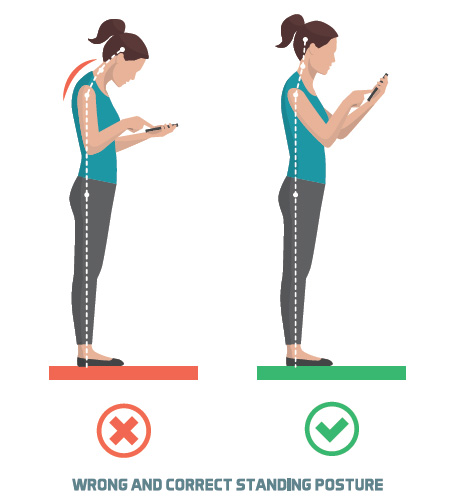 "Even the use of cellphones, no matter where you are – home or office – can lead to injury," continued Suber. "People walk around looking at the screens with their heads down, or they sit in their chairs with their heads down, which can lead to neck strain. If you have to text or use your cellphone, keep your head up so you relieve neck strain."
Even minor changes in your routine posture can improve your health in the long run, and a wide variety of products are available and becoming more commonplace in the office. Stand-up desks or alternating movable desks that allow the user to change from seated to standing as needed offer relief for back pain or certain postures. Lumbar support can reduce back pain, while the use of a yoga ball in place of an office chair can improve core strength. Items like gel pads can provide wrist support if you type often, and headsets or earphones in the place of a regular phone can lessen neck or shoulder pain.
"The bottom line is that in order to prevent repetitive injuries or just sedentary issues, a correct workplace setup is key," said Beasley. "Good ergonomics in the workplace reduces costs, improves productivity, improves quality, improves employee engagement and creates a better culture of safety."
By Anne Shuler Toole