For hundreds of years, orthodontists have used metal brackets, wires and elastic bands to straighten teeth, close gaps and line up the top and bottom rows of molars, canines and incisors. Not long after the dawn of the 21st century, a newer method of moving teeth emerged in the world of dentistry. Clear aligners now provide dental professionals and their patients with another option in their quest to enhance the splendor of their smiles and increase the functionality of their teeth.
Despite the advantages of Invisalign and other clear aligners, traditional metal braces are probably here to stay, according to Dr. Lindsay Grosso, an orthodontist who practices in Summerville and Moncks Corner.
"I might prefer brackets and wires if there's going to be dental surgery involved, if I'm concerned about the patient's compliance or depending on the level of difficulty of the case," said Dr. Grosso, who added that "It's really about what works best in a particular orthodontist's hands."
Dr. Grosso pointed out the advantages of aligners over traditional braces, starting with the fact that they are clear and, in many cases, people can't even tell that you are wearing them. Oral hygiene also comes into play because you use the aligners 20 to 22 hours a day but take them out to eat, brush and floss. They also are more comfortable than traditional braces.
With clear aligners, there are no diet restrictions – adults who wore braces as children certainly remember that they were forced to do without sticky and hard food for a few years or so – and weekend or nighttime emergencies engendered by broken brackets or stray wires aren't an issue. Athletes can wear the plastic aligners while playing sports.
Dr. Grosso added that she can see her patients with aligners less often than those with traditional braces: every eight to 12 weeks, compared with four to six weeks.
Other than when surgery is involved, why would an orthodontist choose traditional braces for a patient? According to Dr. Denise Swasty, who has offices in Summerville, Goose Creek and West Ashley, clear aligners are not necessarily better than the metal version.
"Metal braces are more sophisticated and can do more," she pointed out. "We can do clear aligners with the vast majority of moderate to simple cases, and most people are in that category, but they wouldn't work for some people. It really depends on how difficult the case is."
Dr. D. Jensen Turner, a pediatric dentist in Spartanburg and Gaffney, noted that there might be some limitations with clear aligners.
"You can do most tooth movement with clear aligners, but, with traditional braces, you may be able to move teeth a little bit further and change jaw position with more control," he said.
Dr. Swasty pointed out that she will occasionally use both methods with the same patient, possibly putting metal braces in the back and clear aligners on the rest of the teeth.
Dr. Grosso explained the process of creating anywhere from five to 70 "trays," which patients change every week or two as the aligners gradually move the position of their teeth. She takes a scan of the patient's teeth, which is uploaded to the Invisalign website – or to one of its competitors. A few days later, she receives a model of what the teeth will look like after each step. She makes any changes she thinks need to be made and determines how many aligners are necessary. Three to four weeks after the original scan, the trays are delivered to her office.
All three dental professionals agreed one of the biggest differences between clear aligners and traditional braces is that with aligners, the patient has as much control as the orthodontist. If the trays are not in the patient's mouth 20 to 22 hours a day, they're not going to do their job.
"I'm relying on the patient to help, which I don't have to do with traditional braces," Dr. Grosso explained.
"With braces, the orthodontist is the one who is really creating the movement for the most part," Dr. Swasty added. "If the patient isn't wearing the aligners, the teeth don't move."
Drs. Grosso, Swasty and Turner agree on another aspect of clear aligners: You are taking a chance if you snap a selfie and make an impression of your teeth and order your trays from a mail-order company.
"You don't have a professional who is monitoring your orthodontic care," Dr. Turner commented. "If changes are necessary, who do you talk to? If there are any problems, who do you blame and who do you get to fix them?"
Dr. Swasty added: "An orthodontist goes through an average of 11 years of education prior to seeing patients in private practice. If it takes that long to learn everything necessary to provide quality care in regards to aligning teeth and correcting your bite, why would you risk not receiving an evaluation before making a decision on what is the right treatment?"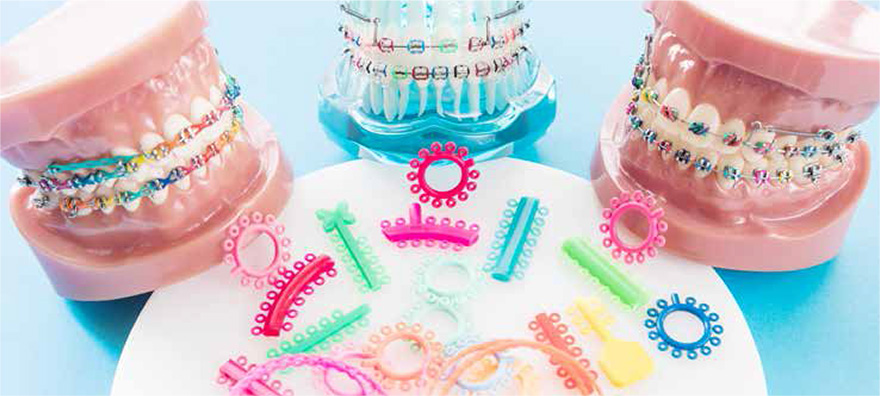 By Brian Sherman