About
Map/Location
Insurance
Testimonials
Appointment Request
About Excel Rehab & Sports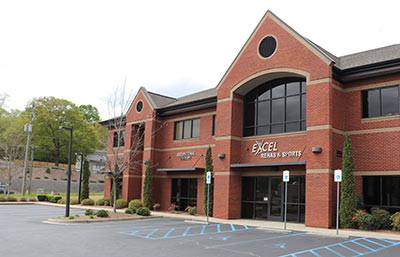 We provide outpatient physical, occupational, and hand therapy rehabilitation services led by our patient-first mission and patient-centered therapy practices. Located in Easley, Clemson, and Seneca, we have cared for the Upstate South Carolina community for more than 15 years.
We work closely with our patients and providers to develop a treatment plan that maximizes outcomes and helps regain independence more quickly. Our patients continue to tell us that there is a difference in the care they receive. This difference is found in our people – each skilled, compassionate, and caring, with an empathy for your unique condition and a deep commitment to putting your needs first while utilizing a knowledgeable and innovative approach to your treatment. By challenging you, and ourselves in all aspects of your care, we consistently achieve superior outcomes.
One on One Physical Therapy
Same Therapist Every Visit
Certified Manual Therapists
24-to-48-hour Scheduling
Individualized Plan of Care
Patients can gain access to our physical, occupational, and hand therapy services through direct access (no referral needed) or a physician's referral. We accept almost all South Carolina insurances, Medicare, Medicaid and communicate up-front costs and other details so that you can focus on the healing process.
Our patient-centered approach is why our patients trust us and choose Excel as their therapy provider. You receive the care you need and deserve right from the start through an uplifting and supportive environment and direct communication with your therapist before, during, and after your discharge from care. Where you go for your therapy matters, and it's your choice. #GetHereGetBetter
EASLEY
1664 E Main St.
Easley, SC 29640
864-654-2001
CLEMSON
501 Forest Lane, Suite A
Clemson, SC 29631
864-654-2001
SENECA
11091 North Radio Station Road
Seneca, SC 29678
864-654-2001
We accept most all South Carolina insurances, Medicare and Medicaid. We work closely with all our patients to ensure they get the care they need and have a dedicated representative for workers comp and VA claims. We are happy to help you better understand your rehabilitation insurance benefits with us if you have questions.
"The Excel therapy team got me back to where I needed to be. I referred a friend who had no relief from a year of therapy elsewhere. She is now healed after two months of treatment with Excel. Thank you for your help. It is great to be whole again."
–D. Brooks
" I choose Excel because this was the best Physical Therapy experience I have ever had. My therapist did an amazing job explaining, identifying, and correcting issues."
— Janis S.
"I choose Excel because of the quality of care, ease of making appointments, and the competency of staff exceeded expectations."
–Noel C.
"I choose Excel because post surgery, I gained 100% improvement in the movement and use of my neck."
— A. Wyatt
"I trusted them to get me back on the ice, and they did! Better than ever!"
— J. Luc