Much has been discussed about what the "new normal" will look like when the coronavirus finally subsides. But for Aspen Butler and others who have been fighting the up-close-and-personal battle against the pandemic that has marched inexorably around the globe since early 2020, there's never been any such thing as a typical day at the office.
"None of our days are ever really normal," said the 24-year-old Butler, an emergency medical technician in Greenwood County for the past two years.
He pointed out that his job hasn't changed considerably since the pandemic reared its ugly head in the United States. He still works three to five 12-hour shifts a week – from 7 p.m. until 7 a.m. – and he still spends his downtime on paperwork and making sure the trucks and equipment are ready to roll at a moment's notice.
"You always have to stay on your toes and be ready," he commented. "We have 90 seconds to be en route to a call. But you can't explain what a typical day is. It's different every time you go to work."
The difference between then and now, he said, is "extra preparation, a lot more sick people and a lot more protocols."
He said in the past, he and his fellow EMTs wore masks during the flu season and donned gloves if they felt like they needed them. Now they always use both forms of protection and sometimes full body gear, including goggles and Tyvek suits, which are made of the synthetic material used by medical personal as part of their personal protective equipment. Since the pandemic started, dispatchers have been providing EMTs with information vital to their health and well-being, such as whether patients are known to be running a fever or suffering from any of the other symptoms of the coronavirus.
About two-thirds of Butler's calls are to 911, while the other one-third are to transport patients from one facility to another, such as from a nursing home to a hospital or from one hospital to another. Regardless, these precautions are important to him.
"I have kids and I don't want to take the virus home to them. It's not just me. It's me and everyone else I come in contact with. It's not fair to them if we're not following the rules like we're supposed to," he said. "Social distancing is not for you. It's for your kids and your grandma."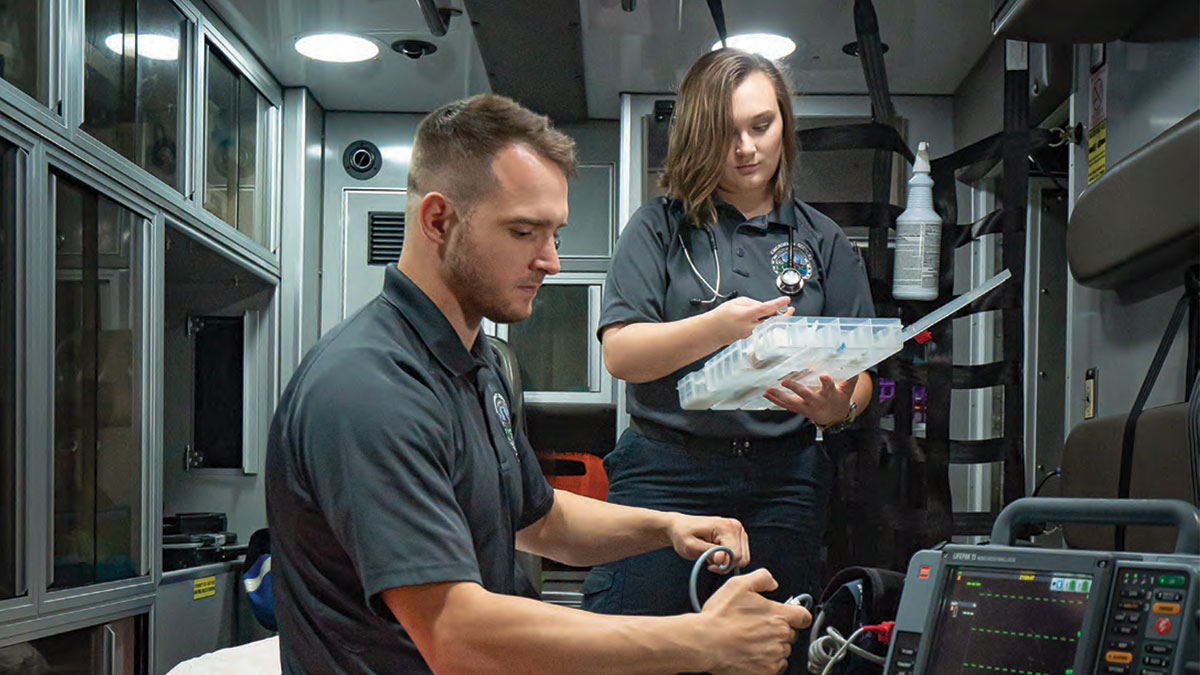 On the other side of the Palmetto State, in Hanahan, the pandemic has negatively affected the bottom line for MedTrust, which handles almost strictly non-emergency transport in South Carolina, as well as in Southeast Georgia and the northern part of Florida. With the pandemic roaring and elective surgeries on hold, Chief Executive Officer and co-founder Josh Watts said business was off by around 40% in April. He added, however, that by the end of May, his company, with 430 employees and 80 ambulances, was moving in the right direction as hospitals began to recover.
MedTrust reacted to the coronavirus early on. Infection Control Officer Scot Parsnick and his team kept the company up-to-date on guidelines from federal, state and local entities. MedTrust also activated its incident command system, which originally met every day – later once a week – to discuss changes in the pandemic's progress, known hot spots and facilities that were especially taxed by the virus.
Most of all, MedTrust hoped for the best but prepared for the worst.
"We have requirements for readiness," Watts explained. "People are still having heart attacks and getting in traffic accidents. Let's say there's an accident, and people go to a facility that might not be able to treat them. We are called on to move the patients from one hospital to another."
MedTrust also prepared for what might have happened by stockpiling PPE, and, as a result, the company was able to help some of its partner facilities that were otherwise unable to obtain personal protective equipment for their employees.
"As a middleman, with no markup, of course, we've been able to broker, if you will, about 75,000 masks for our partners," Watts said.
He pointed out that as of late May, MedTrust had transported approximately 725 patients who either had or were suspected of having COVID-19. He said only one staff member was exposed to the coronavirus, but it was not determined whether that happened on the job or somewhere else. That person recovered and returned to work.
"We take the side of caution. Every time we move a patient, we use a surgical mask, and, if there's any question at all, an N-95," he stated.
Despite the pain, suffering and death caused by the coronavirus, Butler is optimistic that some good will come from the pandemic.
"I believe people are going to be more wary about their health. Before, most people took their health for granted. This is a wakeup call that will encourage people to live healthier lives," he said.
He added: "It's probably not going to end soon, and this obviously could happen again. I think a lot of people will take a lot more precautions when it's all over."
By Brian Sherman