iTrust Wellness Group
864-520-2020
www.iTrustWellnessGroup.com

About iTrust Wellness Group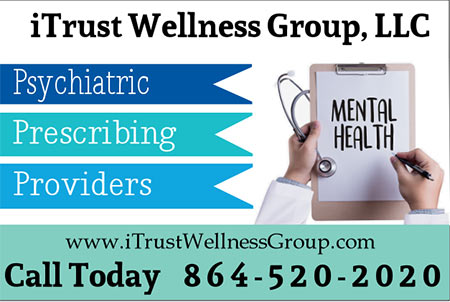 Sometimes the hardest step is the first one. Everyone begins with a sense that something doesn't feel right in their lives.
iTrust Wellness Group provides a comfortable and trustworthy environment for our clients to attain stability and fulfillment in life. We provide both psychiatric medication management and therapy services for adolescents (15+) and adults in the Upstate. We have flexible hours and quick access to the first appointment. We can work with the primary care provider/therapist in order to bridge the gap between what you are struggling with and your overall medical well-being.
No need to get a doctor's referral. Fill out a self-referral today.
We Specialize in Treating
Depression
Anxiety/ Panic Disorder
Trauma / PTSD
Schizophrenia
Bipolar / Mood Disorder
Alcohol / Drug Addiction
Obsessive Compulsive Disorder
Eating Disorders
Marital / Relationship Issues
Loss and Grief
Attention-Deficit Hyperactivity Disorder (ADHD)
Mood Swings
Adjustment Disorders
Disruptive Behavioral Disorders
Buprenorphine (Suboxone)