About
Map/Location
Insurance
Testimonials
Appointment Request
About iTrust Wellness Group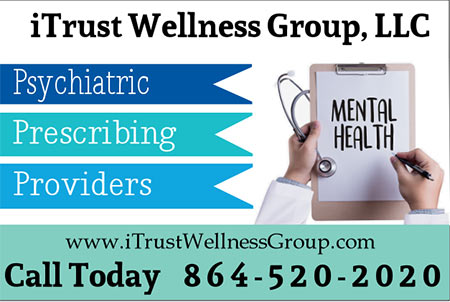 Sometimes the hardest step is the first one. Everyone begins with a sense that something doesn't feel right in their lives.
iTrust Wellness Group provides a comfortable and trustworthy environment for our clients to attain stability and fulfillment in life. We provide both psychiatric medication management and therapy services for adolescents (15+) and adults in the Upstate. We have flexible hours and quick access to the first appointment. We can work with the primary care provider/therapist in order to bridge the gap between what you are struggling with and your overall medical well-being.
No need to get a doctor's referral. Fill out a self-referral today.
We Specialize in Treating
Depression
Anxiety/ Panic Disorder
Trauma / PTSD
Schizophrenia
Bipolar / Mood Disorder
Alcohol / Drug Addiction
Obsessive Compulsive Disorder
Eating Disorders
Marital / Relationship Issues
Loss and Grief
Attention-Deficit Hyperactivity Disorder (ADHD)
Mood Swings
Adjustment Disorders
Disruptive Behavioral Disorders
Buprenorphine (Suboxone)
117 Commons Way
Greenville, SC 29611
865 Old Clemson Hwy
Seneca, SC 29672
Medicare

Standard Medicare
Blue Cross Blue Shield
Humana
Aetna
United Healthcare
AARP (United Healthcare)
Mutual of Omaha (UHC)

Commerical:

Humana
CIGNA
Aetna
BCBS (CBA)
United Behavioral
Health / Optum

Tricare:

Tricare for Life
Tricare East

Medicaid:

Healthy Connections
Select Health / First Choice
I Trust Wellness has been a blessing for both me and my son. We see Luron and Jared respectively. I also see Denise for therapy and we did family therapy with Stephanie. They are all amazing. Emily at the front desk is the kindest soul and is awesome!! Do not hesitate to "trust" you and your family members mental health to these wonderful people.
This team has been wonderful so far! Very quick to respond and answer any questions you have whether big or small, they're there for you always! If you're looking for a new Therapist or having issues, try iTrust!
Got a call from Kathryn to confirm my appointment details, very sweet and to the point 🙂 the call lasted two minutes and I was emailed and details of the call not even seconds later! Very pleased with the interaction 🙂 do recommend!