What is a Spinal Care Doctor?
A spinal care doctor comes in the form of many specialties. Orthopedists and neurosurgeons perform the majority of spine surgery. Orthopedic surgeons focus their surgical treatment on musculoskeletal conditions, while neurosurgeons focus on the surgical treatment of patients with neurological conditions. Neurosurgeons are trained to diagnose and treat disorders of the brain, spine, spinal cord, nerves, intracranial and intraspinal vasculature. Other specialists, like an anesthesiologist, help relieve pain and total care of the surgical patient before, during and after surgery. A physiatrist helps to treat pain without surgery. They treat patients with back pain, neck pain, work or sports-related injuries, fibromyalgia, arthritis, tendonitis, or spinal cord injuries.

Find Upstate, SC Spinal Care Doctors
Search for Spinal Care Doctors Near You!
Featured Spinal Care Doctors Spinal Care Articles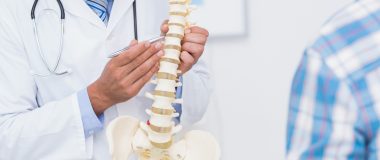 If you've ever gone to a chiropractor, you're likely familiar with the process. Generally, you lie down on a table and the doctor manipulates your…