When a family cruise in June 2018 rendered now-14-year-old Aaron Ritz more exhausted than normal, his parents, Brandy and Jeremy, blamed it on typical travel fatigue and continued with their summer plans. The July beach trip didn't seem to wear on their son as hard, but, one August weekend, after Jeremy injured his back in a car accident, Aaron approached his parents, complaining of pain on the side of his body. Brandy and Jeremy hoped he was just experiencing "growing pains," but, two days later, he was feeling even worse, describing pain so awful he hadn't slept the previous night.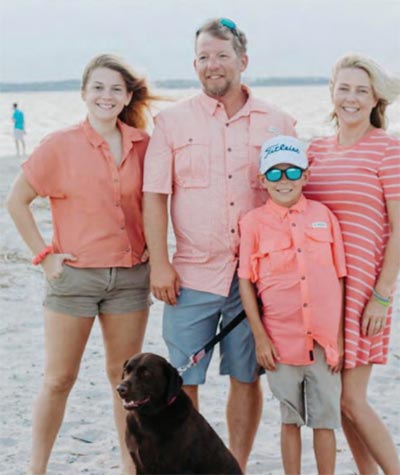 "I called the doctor right then," Brandy Ritz said. "We got in that day, and right before the appointment, he was passing blood in his urine. The doctor couldn't see much on the X-ray and said she would send us to Greenville Hospital."
The quick turnaround for the Ritz family turned out to be fortuitous. By 10:30 that Monday evening in August, Aaron's kidneys had shut down, and he was in renal failure. Following an ultrasound, doctors discovered that both kidneys were covered in blood-filled blisters and swelling. The news was grim: Aaron's kidneys were no longer usable, and he would need immediate dialysis. More tests showed that the boy also was experiencing high blood pressure, malnourishment and severe anemia.
"All of this happened in less than 24 hours," his mother said. "They gave him a belly dialysis, and we had to be in the hospital for a while and take classes about it, since it's a direct opening to the organs. We did that for a solid week. When he came home, he was doing dialysis every night. But he was otherwise normal."
Aaron was so normal, in fact, that he started school that academic year, albeit a bit late, in October. The school year proceeded regularly, according to the Ritzes. But Aaron was still in a precarious place. One night in July 2019, he complained of a severe headache, which was soon followed by a seizure. Panicked, Brandy and Jeremy rushed their son to the hospital. They were told his blood pressure was "sky-high," and his brain was damaged due to a stroke, which can happen with posterior reversible encephalopathy syndrome, or PRES – a comorbidity of kidney failure.
After a few days of trying to get Aaron's blood pressure under control at the hospital, doctors decided it was time to send the Ritz family to Charleston to have Aaron's kidneys removed at the Medical University of South Carolina. For three months, the boy had no kidneys and relied strictly on dialysis as the family waited for a viable donor. Then, on Halloween 2019, MUSC called Brandy late at night. They had found a match for Aaron and would schedule the surgery.
"We were planning to be on the way to Edisto — we were already picking him up from school early," Brandy remembered. "On the way to the school, the hospital called again and said to come on in. We told Aaron about the change in our plans, and we told him about the kidney. We all cried."
Aaron did well during his surgery the next day. However, a few days later, another challenge surfaced – he had fluid in his lungs and was unable to breathe. The kidney was "in shock," meaning it was shutting down as it struggled to acclimate to Aaron's body.
"We thought he was going to die," Brandy said somberly. "But the doctors remained optimistic."
Nearly three weeks later, the kidney started to work, and Aaron was able to produce urine normally. The fact that it took 20 days was a marvel not lost on the Ritz family; their running joke, according to Brandy, is that Aaron takes 20 minutes to do everything – eat his cereal, put on his shoes, take a shower.
"It was just interesting," she said, smiling.
Today, Aaron is doing well, according to his parents, visiting the doctor monthly and taking hormone shots to aid in his growth. Doctors said his kidney should serve him for two decades or more, and young Aaron has taken up the mission of telling everyone he knows to become an organ donor. Because Aaron's case is rare – and testing has revealed that his kidney disease is not due to genetics – his story will be published in medical journals.
"He is one of only 14 in the entire world," Brandy said. "But he just wants to be a regular kid. And he wants everyone to check that box to become an organ donor."