About
Map/Location
Insurance
Appointment Request
Testimonials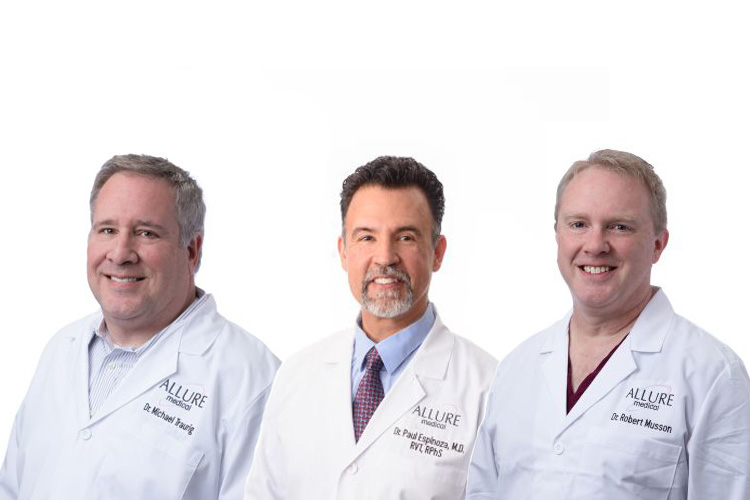 Founder and medical pioneer Dr. Charles Mok established Allure Medical in 2004 with the commitment to reduce healthcare waste and a clear focus on delivering incomparable patient care. As a trauma surgeon, Dr. Mok routinely cared for patients with preventable diseases and has made it his life's mission to prevent and cure disease, not just manage its symptoms. With Allure Medical's expansion across the country, Dr. Mok continues to offer cutting-edge treatments for a multitude of diseases while pledging to reduce healthcare waste by $10 billion by 2025. For years, Dr. Mok has focused on reducing risks, reducing costs, and reducing complications by creating a culture of eliminating waste. "Our purpose is to save healthcare," says Dr. Mok. "Healthcare costs are staggering and growing at a rate of five percent per year. That's not sustainable." "It takes time, but we can impact healthcare," says Dr. Mok. "It comes down to challenging the status quo. I know how to eliminate steps that don't create value which means my complication rate is lower, my success rate is higher, and I have happier patients."
Allure Medical is one of the largest and most successful practices of its kind and helps its patients with disease prevention through treating varicose veins and advanced vein disease with offices in South Carolina, Florida, Michigan, North Carolina, Kentucky, and Wisconsin.
369 Halton Road
Greenville, SC 29607
(864) 479-8774
1650 Skylyn Drive, Suite 340
Spartanburg, SC 299307
(864) 499-8378
112B Hospital Drive
Simpsonville, SC 29681
(864) 479-8776
AARP/Medicare
Aetna
Aetna/Medicare
Blue Cross Blue Shield Federal
BCBS Florida
BCBS Michigan
BCBS Illinois
BCBS Minnesota
BCBS North Carolina
BCBS South Carolina
BCBS State
BCBS Texas
Cigna
Humana
Humana Gold Plus
Medicaid
Medicare
United Healthcare
I love Allure Medical! The doctors and staff are wonderful! Everyone on the staff get an A+ for caring. They ALL want you to feel better.
I was happy with the results I got, also very friendly and made you comfortable. Making appointments were easy. I would recommend this place highly!
Everyone is very friendly they care they are very knowledgeable of what they doing. I have been in ongoing treatment with Allure Medical and my experience have been overall excellent starting with the reception desk all trough my procedure with everyone that have been working with me. I recommend Allure Medical for you care needs.